The UB Bulls kick off the season on August 31 when they pay a visit to Ohio State.
Paul Peck, Scott Wilson, and I are part of this year's radio broadcast team (along with Jim Kubiak) and we discuss some of the questions surrounding the program heading into the year.
Expectations are as high as they've ever been. Bottom line–  we're all really pumped.

What is your lasting memory/moment from last season?
Paul Peck – The second half comeback against UMass. Lots of jobs/futures/direction were on the line as they trailed at half. But the comeback, led by Joe Licata, showed me that the team believed they were good and had the fortitude to fight back and win. I think it may be a defining a moment.
Brad Riter – The story of last year is November's three-game winning streak over Miami, Western Michigan, and UMass. It energized the entire program and earned Jeff Quinn a contract extension. Learning how to win is a huge step. Look at Kent State– they ripped off 4 straight wins at the end of 2011 and then cranked out an 11 win season in 2012. There's no doubt that Kent's story is well-known to the Bulls.
Scott Wilson – The punt block and return for a touchdown in the second half at UMass. It sparked a comeback win and snapped the UB road losing streak. That was a game that the Bulls had to win and did to keep the late season momentum going as it built towards this year. The special teams stepped up and changed the game.
Do you sense a different attitude in the players & coaches headed into this season?
PP – Definitely. There is a confidence, a belief, a feeling that we are good and we will show it. It comes from the senior class, who happen to be the best players and thus the best leaders.
BR – Yes, and I attribute it to the validation that stems from that winning streak. The coaching staff is intact, the QB is back, and there are NFL-bound players on both sides of the ball. They're big and deep on both lines, show no glaring weaknesses anywhere on the roster… and they know it.
SW – There's a very different feeling about the lead up to this season and it's expectation. The coaches, players and fans all feel very positive about what this season could be. All the pieces are there at the leadership positions and there's finally some decent depth and competition for key spots. The players stayed mentally tough last year through some hard losses and made the run to prove to themselves they have what it takes. Now, they feel confident they can carry it over to this season.
What's the game you have circled on the calendar this year as being the most important?
PP – I hope it's the Bowling Green game, and it's for the East Division title. I want to put a lot on the UConn game, as a springboard non-conference win. But the biggest game of the year will be the Ohio game. To be the best in the East, the Bulls will have to beat the Bobcats, at home on national TV.
BR – Assuming they'll lose to Ohio State and Baylor and then beat Stony Brook, let's circle the home game against UConn on September 28th since it's the first one that's a 50/50 proposition. UConn has been a measuring stick for UB since the two programs jumped to I-A within a year of one another. A loss here doesn't kill the Bulls' season (non-conference game) but a win really sets the tone heading into MAC play. (Note: The Bulls are 1-10 against the Huskies since jumping to I-A, including a loss in 1999 when UConn was still 1-AA.)
SW – It's tough not to pick a MAC game because the conference is so tight but I've got the UConn game at home circled as being a big one. The Huskies have had NFL level talent on the defensive side the last two seasons and UB still almost knocked them off both times. I think this is the year the Bulls kick down that door and get into conference play on a high note.
Very difficult start to the season at #2 Ohio State and at Baylor- expectations for those two games?
PP – To do exactly what happened at Georgia last year. Make some plays, be competitive and use that as a confidence boost for the rest of the season.
BR – Play hard. Don't look out of place. Walk away saying "we were right there." Gain confidence and then hang 80 points on Stony Brook. Or just upset the #2 team in the nation and hand Urban Meyer his first loss as a Buckeye.
SW – Compete, raise some eyebrows, gain some confidence and stay healthy. The Bulls will be underdogs for sure in both games, but they will have some good match-ups that they could exploit in both contests to try and shock the world.
We all know Bo, Mack, Neutz and Licata – who's your underrated guy to watch this season?
PP – Tight end Mason Schreck. A big, downfield target across the middle of the field will help Licata and open up the offense.
BR – I can't believe how good Beau Bachtelle is in EA Sports NCAA 14 but he's not my pick. I like the whole TE crew (Jimmy Gordon, Matt Weiser, Mason Schreck, Alex Dennison) to create match-up problems all season long.
SW – I'm with Paul on Schreck who I think will be a big red zone target but I think the most underrated player on the team right now is Colby Way. He's a nightmare to deal with on the line and playing with Khalil Mack this season he's got an opportunity to put up big time numbers and play himself into the NFL Draft.
Last year Devin Campbell burst onto the scene – who do you think will be this year's breakout star?
PP – Shreck. See above. On defense, Brandon Berry at safety. He's a physical, fast skilled player that could be a difference maker on the defense.
BR – Pressuring the QB leads to bad throws. Bad throws lead to interceptions. Najja Johnson picked off 5 passes in 2012 and he'll beat that total this year, upping his draft stock. Keep an eye on FS Derek Brim as well.
SW – Linebacker Blake Bean is new to the Bulls and I think has a chance to slide in and be a difference maker. Another high school championship wrestler on the roster that will make plays. He transfers in from a JC in Kansas where he had 113 tackles, 11 TFL, 2 sacks and an INT last season, so he's got a nose for the ball.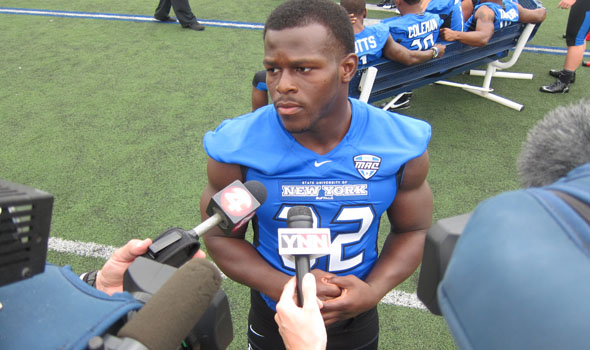 Will Branden Oliver lead the MAC in rushing this season & will he break James Starks' record?
PP – He will break Stark's record easy. With other RB like Fluellen, Archer, Blankenship on offenses without as much of a passing threat, it could be harder to lead the MAC.
BR – Starks' record is toast. Bo's only 626 yards shy of that mark. Shared carries will cut into his numbers a bit so leading the conference is a challenge, but he's good enough to do it. He's one of the best backs in the nation. Here's hoping he can stay healthy and put in a full season.
SW – Stark's record might be gone by week five. I'm not sure about the MAC because of Fluellen at Toledo and because with so much depth at RB, other guys might actually get to carry the ball this year.
Last year's MAC schedule was brutal for UB, what's your feeling on it going into this year?
PP – Much easier in opponent and order. No NIU is good. The stretch after OSU & Baylor will allow the Bulls to run off some wins and gain momentum. The last month is tough, so getting wins in the middle is key.
BR – This is the first time I remember looking at the schedule and thinking "good… good… good… great" rather than "The MAC is out to get these guys." I don't need to see Jordan Lynch and Northern Illinois in person. I'll just watch him dominate on TV. And, with the huge focus on marketing this year, I LOVE the 3 straight Tuesday night games in November (all on some branch of ESPN.)
SW – Night and day to last year. The Bulls get a chance to get a serious run and some momentum going into the last month of the season where they will take on some of the other top teams in the conference. No game in the MAC is "easy" but missing NIU this year is great.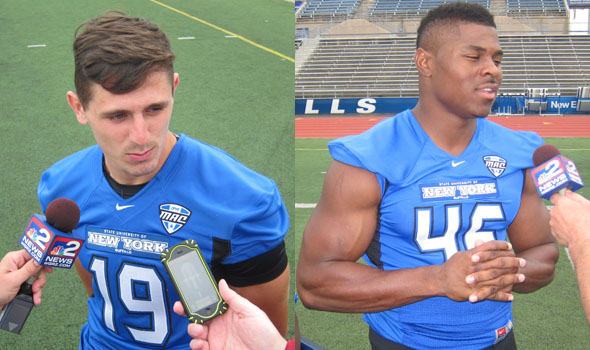 What's more important for the Bulls to develop, an option opposite of Alex Neutz or an option opposite of Khalil Mack?
PP – More important opposite of Mack. Neutz can handle the attention, and using the backs and tight ends will reduce the pressure on the other WR to perform. Plus, Bo and the running game is a factor. It will be too easy to triple-team Mack if Way and Bachtelle don't at least provide some threat. The linebackers also play a role, as do the safeties. But every offense will start game planning by figuring out how to stop 46.
BR – There are enough players with potential in the mix opposite Neutz (especially when you factor in tight ends) that I don't view options as a problem. On defense, Mack will face double (triple, quadruple?) teams all year. The more an offense commits to stopping him, the more room everyone else has to move. Fine by me. (I don't think I answered the question.)
SW – Opposite of Mack. If 46 can face regular fronts, UB wins. If they double him, it should free up opportunities for other players and they have to step up to make the other team pay for shifting towards Khalil. Mack can be the ultimate game changer in the MAC and can take games over, if someone else emerges on the other side this Bulls defense can go from good to scary.
With Patrick Clarke kicking and the Grassman family punting (Tyler kicks and his cousin Corbin long snaps) have you ever felt better about the kicking game at UB?
PP – I like Clarke's range and mental toughness. He should take a step up with consistency this  year. Grassman showed signs last year, again needs to be more consistent. If Corbin is as good as advertised, having a consistent long snapper will be huge.
BR – It's a relief. In years past, it's been crippling to know that any FG beyond 40 yards was a dicey proposition. Eliminating that feeling is a huge monkey off a playcaller's back and a stud punter's ability to "flip the field" pays big dividends in tight conference games.
SW – No, I haven't. The Bulls can get points where they couldn't in seasons past because of Clarke's leg. Grassman had a decent first season and if he's grown as much as the coaches say he has he can be just as big a weapon. Having Grassman switch the field position with UB's defense could be the difference in some close games.
Your feelings on the new branding of the team with NEW YORK emphasized?
PP – I see the big picture and the growth potential of expanding beyond WNY. It is one of only 2 states where the state's name is not in the name of the premier sports-playing college. It will take some getting used to, but I like the idea.
BR – I've loved it since it first came up 10 or so years ago (and the proposal was much more dramatic with a full-on school name change in the conversation.) Nationally, Buffalo has a negative connotation and New York has a positive one. Why not accentuate the part of your school's name that has a good rep? The transitional phase might be a little clunky, but long-term, it makes perfect sense.
SW – I'm on board with it 100%. It's a smart move branding wise and is the way to go in the future. People in Buffalo are very protective and proud of things with "Buffalo" on it and rightfully so. But, take a step back and look at it through the lens of college sports and I think you'll like it. Penn State is located in Happy Valley and even though you don't call the team "Penn State at Happy Valley" you still know where it is. The same with Florida State or LSU. If UB were to change to New York State, they'd still say it was in Buffalo and it wouldn't take long for fans to just know it.
Buffalo vs. Bowling Green the day after Thanksgiving at the Ralph- your thoughts?
PP – I so want it to be for the MAC East title and spot in the MAC Championship game. What an atmosphere it would be, with that on the line and 25-30K people there. I think local fans will turn out just to be a part of the history.  If the game means that much, it will be even more of a draw.
BR – I hate how empty the stadium might look on TV but the benefits outweigh that lone negative. If the season goes as well as I think it will, it'll be a great opportunity to reach the part of the WNY sports fan base that doesn't already have the Bulls on its radar. Even if it doesn't, a UB football game is being turned into an "event" and this town loves events. I'd also imagine that the vision is to have this as a recurring series of games and "you'll play a home game in an NFL stadium" sounds nice in a recruiting pitch.
SW – There will be a lot riding on this game and I think it's an awesome chance to play in a NFL stadium and get a lot of local support behind the team. With the implications of the game and the special location I would expect the atmosphere to be awesome.
UB plays four games in the state of Ohio this season. (Ohio State, Kent State, Toledo, Miami)  Predict their record in those games.
PP – 2-2.  Wins at Kent State and Miami. Losses at OSU & Toledo. Do I think the Bulls could be as good as the Rockets? Yes. But they are a premier team in the MAC and they deserve that pick…right now.
BR – 2-1 in conference and a loss in Columbus lands me on 2-2.
SW – I'm going 2-2 with wins at KSU and Miami. I really think the Toledo game is a toss up. The Rockets escaped UB Stadium last year with a win and I think the Bulls have the potential to get that win.
Make your season prediction – is UB going bowling this year?
PP – Potato Power!!  We're off to Idaho.
BR – For the first time since going to I-A, I'd be surprised if the season ends after 12 games. The MAC Championship game is possible and would be nice but there's a lot of competition for that spot in the East. A bowl game, however, seems very likely.
SW – I think the Bulls can go 9-3 this season and make the MAC Championship game in Detroit and the postseason.