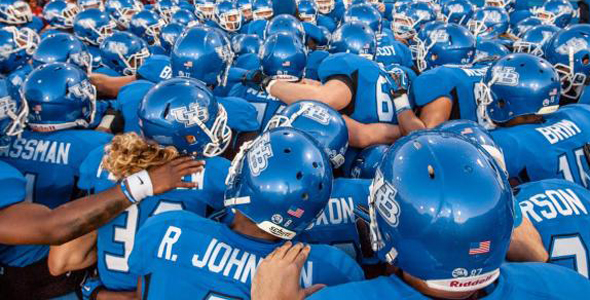 If you need a primer on the entire landscape of NCAA football heading into the season, USA Today is running a fantastic series as Paul Myerberg gives an in-depth breakdown of every team in the FBS from number 125 to number 1.
After a long wait… yes, here's No. 74 Buffalo http://t.co/1nipunDTVf Bulls are a MAC contender. Really.

— Paul Myerberg (@PaulMyerberg) June 24, 2013
The UB Bulls need to win 6 games to earn bowl eligibilty and, at #74, they're slotted ahead of seven of their 2013 opponents– #124 UMass, #117 Eastern Michigan, #103 Miami (OH), #102 Central Michigan, #98 Western Michigan, #92 Connecticut, and #85 Kent State. Ohio State, Baylor, Ohio, Bowling Green, and (FCS) Stony Brook round out the schedule.
The full post is worth your time (as is the entire series) but here are some highlights.
The roster
16. That's the number of non-senior starters in 2012. The vast majority of last season's contributors are back to help Quinn and Buffalo take the next step in this process, leading the Bulls back into the postseason for only the second time in the program's FBS existence.
Last year's 4-8 record
Seven of Buffalo's eight losses came to eventual bowl teams: Georgia, Kent State, Ohio, Northern Illinois, Pittsburgh, Toledo and Bowling Green. The Bulls' eighth loss came at Connecticut, and only by a touchdown. Of those eight opponents, three would win 11 or more games – the Bulldogs, Golden Flashes and Huskies.
Coach Jeff Quinn
He's slowly but surely built Buffalo into a MAC East Division contender from the bottom up. After two very painful seasons in 2010 and 2011, the Bulls showed some spark the second half of last season, ramping up the Bulls' expectations heading into Quinn's fourth year with the program.

Quinn's up-close experience with a program-builder and maintainer like [Brian] Kelly will yield dividends for Buffalo.
Quarterback
Buffalo needs to hand the offense over to sophomore quarterback Joe Licata (1,045 yards and seven touchdowns), who went 3-1 as the starter in the final month of 2012.  Buffalo's quarterback will be vastly improved merely due to the projected improvement from Licata, a very nice prospect with the right arm and just enough mobility – barely enough – to fit into Quinn's system. Buffalo's quarterback play will be the program's best since at least 2009, if not since Drew Willy.
Running back
Injuries hampered Branden Oliver's (821 yards) run at another all-conference season, costing the senior all of five full games and parts of four others while slightly diminishing Buffalo's production in the running game. Oliver's injury woes opened up a role for sophomore Devin Campbell (502 yards), who responded with three 100-yard games and some solid production in the passing game.
Star LB Khalil Mack
Khalil Mack (94 tackles, 21.0 for loss, 8.0 sacks), a bona fide All-American with the speed, toughness and aggressiveness to headline any defense in college football. Putting him in this league is almost unfair: Mack is a sideline-to-sideline roamer against the run and the stuff of nightmares on third down, forcing ever-wary offensive lines to constantly swivel and slide protection – and thereby opening up opportunities for Mack's teammates. Mack is nearly single-handedly responsible for everything Buffalo is able to achieve defensively. I'd say that makes him an All-American, no?
Prediction
This is the time for Buffalo. The pieces are in place. The defense is among the MAC's two or three best. The offense has the tools, talent and experience to move beyond the last three seasons of middling results, even if the Bulls will be reliant on a young quarterback like Licata and a revamped right side of the line. In all, Quinn has bolstered Buffalo's personnel where it counts, along the offensive line and the defensive front seven; the Bulls have enough depth to survive an eight-game MAC schedule – even if one must admit that the Bulls, talent-wise, don't quite match up with the league's elite upper crust.

After slowly building to this point over Quinn's first three seasons, Buffalo shouldn't expect a burst to eight or nine wins. Instead, let's take it a step at a time: Buffalo should win six or seven games during the regular season and return to the postseason after a five-year absence, building a bridge to continued success over the duration of Quinn's new contract. So how do the Bulls get to six wins? By harassing quarterbacks, forcing turnovers and punching back between the tackles on defense. Offensively, the Bulls need to be smooth and patient with Licata, balancing out his bouts with youthful inconsistency with a powerful running game. It's a simple formula that should yield solid results. The Bulls should expect six wins and bowl eligibility. Now that's a change.
Starting the season with consecutive road games at Ohio State and Baylor makes for a likely 0-2 record out of the gate, but all signs point to the best UB football season since 2008.