In 1988, Brad Riter introduced me to Fantasy Baseball. At the time no one else I knew was playing any type of fantasy sport. This was new to us both, so we filled in a paper worksheet for the draft, put in the mail and anxiously waited 4 weeks for our team. About a month later, we finally received the rosters our team and the names, locations and rosters of the other 5 teams in our league. We played with strangers from places as far away as Ft. Wayne, IN, Baton Rouge, LA, and St. Louis, MO. For two kids from West Seneca, these were exotic and fascinating locations.
Each week after that, Brad had to snail mail in our weekly lineup. The league office would then compile the stats, "play" the games, and snail mail us back the weekly "turn period" results.
If you wanted to make a trade, you had to call the other owner on the phone. In 1988 a long distance call cost like $7. Our pièce de résistance (aka our only trade) was trading Dale Sveum and Andre Dawson for Alan Trammell. The entire process was slow, tedious, and primitive BUT I LOVED IT!
I was so thankful that Brad brought this into my life! What a great pal!
A year later in 1989, I came a across some info for a Fantasy Football League. I really liked football and I loved fantasy baseball so this was going to be PERFECT! What a great idea!!! And it was such a simple concept. Draft a team of 7 offensive players and if they score a TD for 6 points, your team scores 6 points. The further they score from–the more points you would get.
INCREDIBLE!!!
Even at a young age I could see the ENORMOUS potential here. The future of this sport was bright! I envisioned leagues of people playing this all over the country, dozens of different $15 fantasy football magazines, giant draft boards with colorful stickers, $300 fantasy football championship rings, award winning TV comedy shows loosely based on fantasy football and more!
The opportunities were unlimited.
When I excitedly showed my Fantasy Sports Partner in Crime (aka Brad) our new golden opportunity, he looked at it for 15 seconds and said…
"That's stupid. Kickers are worth as much as Walter Payton. Who would want to play something where a kicker is worth as much as Walter Payton?"
It probably was a stupid idea. I mean who would ever want to play Fantasy Football? Nobody I know, that's for sure.
I'm glad Brad helped forever steer my destiny in the right direction. Who knows how my life would have turned out if I had pursued that horrible idea.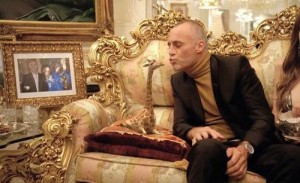 The Kick Is Good.com
 is Where Football Meets Funny and writes funny stuff just like this every day. 
Follow The Kick Is Good on Twitter @thekickisgood and Facebook. 
Right now The Kick Is Good is 
counting down
 the days until the 2012 Buffalo Bills Season day by day and player by player. It's super fun.