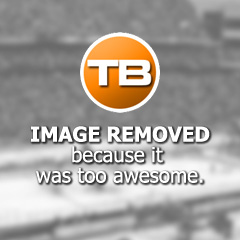 Welcome to Bizarro Sabres World.
First, word leaks out that the team wants to hand a 4 year, $30 million contract to veteran winger Shane Doan. Wait… what? The Sabres? This is the same GM that presided over the Peca, Hasek, Drury, Briere, and Campbell fiascos, correct? The guy who had to "educate the fans" about small market NHL economics? The guy who inspired the #DoSomethingDarcy Twitter hashtag as recently as 5 months ago? OK.
Thing is… that's not even the weird part. The twist is that fans and media are now in a position where they're asking "should the Sabres be willing to part with money that they WANT to spend on a guy who brings exactly what they want to add?" How did we get here? (Fracking, I guess.)
Short answer: YES.
Long answer: Here are 30 reasons why the Sabres should, in fact, do exactly what they've already done… offer 30 million dollars to Shane Doan.
1 – He's a top-six forward.
2 – As talented as Doan is offensively, he gravitates to the dirty areas. He's won't hesitate to to take the body or drop the gloves when need be.
3 – Doan fits perfectly on the new-look "Tuffalo" Sabres.   John Scott and Steve Ott are here to make the Sabres "more difficult to play against."  Adding Doan continues the trend.
4 – A guy like that should play in the Eastern Conference.  He belongs on the ice with Boston, Toronto, Philly, etc.
5 – Vanek would no longer be the highest paid player on the team.  This type of guy SHOULD should be your team's top earner.
6 – Players around the leauge would respect a team that wants to give that much to standup guy like Doan.  And this could help with future free agents.
7 – He's clearly NOT all about the money. If so, he would have signed already.
8 – Loyalty. Dude has been in a monogamous relationship with the Phoenix Coyotes!  (Please ignore that the loyalty point would be greatly diminished should he choose to sign here and just keep reading.)
9 – There are plenty of ways for the Sabres to manage the contract. Let's say they give Doan $10mil, 10mil, $5mil and $5mil. Pegula can buy out the last two years or pay him and assign him to the minors.  Don't assume you know more about managing the long-term cap ramifications than the Sabres do.
10 – There's a good chance that there will be less restrictive and less punitive methods for teams to get out from under long-term contracts in the the new CBA (whenever that gets done).
11 – Marcus Foligno.  Having Doan there to teach Foligno how to be a pro every day is the best thing the Sabres can do for his development.
12 – Doan is an upgrade over Drew Stafford as a top six forward.  Shane Doan is not only infinitely tougher than Stafford, he's also better offensively. Doan has scored more points than Drew Stafford every year.  And no one believes Stafford is just about to "get it" any more, do they?
13 – The new core. The Sabres' Stanley Cup will be won on the backs of the new core…  Hodgson, Ennis, Myers, McNabb, Grigerenko, Girgensons, Foligno. At the very least, we want them learning by osmosis from Doan for the next couple years.
14 – The Boston Bruins.  Buffalo NEEDS to see what happens if Milan Lucic runs Ryan Miller with Ott, Scott, AND Doan on the Sabres roster. Won't. Be. Tolerated.
15 – If you take out his teammate, Shane Doan will fight you.
16 – He's one of those ultra-serious Drury/Peca types.  Teammates will tell you they've seen him smile, but it can't be captured with conventional photographic equipment.  Guys like that save their public smiles for the Cup ceremony.
17 – Playoff intensity.
18 – Adult playoff beard.
19 – "He's spent his entire life trying to get one thing."
20 – He's secretly playing (and winning) a game of NHL Captain King of the Mountain.  Vanquished competitors include Dustin Brown and Ryan Callahan above, now Brendan Morrow.
21 – Someone chose to set this guy's highlight reel to Iron Maiden, and it doesn't even seem ridiculous.
22 – Level of Compete. Darcy and Lindy have openly admitted the Sabres need to raise their "level of compete." In a three word cliche, that's exactly what Shane Doan brings.  The dude played hard while playing in front of 6 people in a desert… what will his game look like in front of a packed house on a Friday night vs Boston?
23 – Net-front-presence beating balance. Doan can share some of the lower-back-cross-check load with Vanek… and in turn, keep Vanek healthier longer.
24 – Scoring. He's good for 20 goals at least, replacing Derek Roy's production…  and not from the perimeter.
25 – If half this year will be lost to the lock out, Doan's legs will be fresh for an extended playoff run.  And this half season should give him some gas for a strong 2013-14.
26 – Headline writers rejoice with endless supply of Doan puns like…
27 – "Doan: Believe The Hype" or "Doan Come Around Here No More" or "Doan Stop Believing"
28 – Ideally, Sabres can convince Martin Gelinas to come out from behind the Calgary bench (significantly cheaper than Doan) and, poof, you can roll out a line of Gelly Doan Ott.
29 – Without risk, there is no reward.
30 – We're at 30 and we're not done.  Here are some more pro-Doan justifications from WGR's Chris "Bulldog" Parker.