Smart Thing 1 – Bisons Promotional Schedule for August
We're 25 years in, Coca Cola Field looks as good as ever, and August provides more than just baseball when it comes to affordable family entertainment.
We've come to expect the regulars–  fridaynightbash! (four of them), fireworks (six times total–  plus two nights of "pyrotechnics"), Mystery Ball night, Youth Jersey Giveaway night, etc.
This month, fans are also treated to three separate 25th anniversary celebrations, a homerun derby, a Polish Festival, a German Festival, a Pirate Festival(!), Disco night, Zombie night, commemorative coins, Earl of Bud bobblehead dolls…  AND Fan Appreciation Night.  Well done, Bisons.
Smart Thing 2 – Route 400 Construction
If your daily commute is between the Elma-Lancaster-East Aurora area and Downtown Buffalo, you probably cringed when you learned of the looming summer construction project along the Route 400 expressway.   There's nothing like starting every morning in bumper-to-bumper traffic.
Now, we're not traffic scientists…  but it appears the Department of Transportation must have done something smart here. Even though traffic is restricted to one lane in each direction, the daily delays have been entirely manageable if not negligible.
(And YES, you read this correctly.  We actually just gave a digital pat on the back to the DOT).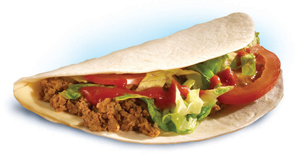 Smart Thing 3 – Mighty Taco on Chippewa
Duh.  Never in the history of Buffalo has a restaurant opening made more market sense than Mighty Taco on Chippewa Street.  Eating Mighty is almost always a decent choice.  But eating Mighty after consuming copious amounts of alcohol is a synergy so perfect that it rivals the very principles of quantum physics.
Bonus Brilliance: ChippaMighty stays open to 5am on bar nights.
Bonus Bonus Brilliance: This location has no drive-thru.
Bonus Bonus Bonus Brilliance: Rumor has it that Mighty is putting together a new reality TV show shot inside "wee-hours" ChippaMighty