I was walking out of Wegmans yesterday and noticed this shirt.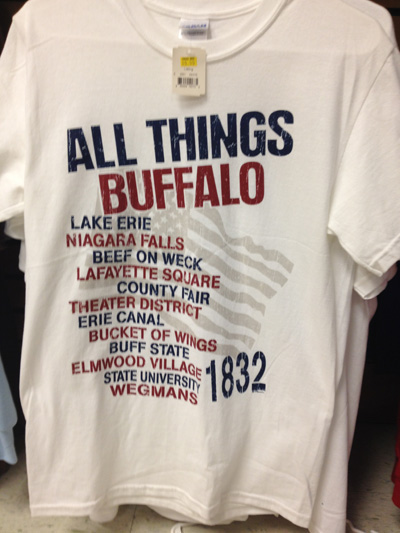 My first thought was "Do people really buy clothes at Wegmans?"  Followed immediately by,"why are these shirts on sale in a cove you can only enter AFTER you check out? Are these shirt designs really going to be so amazing that they're going to defy the worst placement in the history of retail?" So I had to look.
Turns out I do not have to worry about heading back to the 12 items or fewer line, because this shirt is what they're selling. It's a list of 12 items that are, I think, supposed to represent what Buffalo is really all about. 
Here's the list of absurdity:
Lake Erie? Lake Erie is not a "Buffalo Thing"– it's a Great Lake, which is its own thing.  The waterfront that borders Lake Erie is a Buffalo thing, and it blows.  It's moving (glacially) in the right direction but it still sucks by comparison. Thanks for reminding us.
Niagara Falls? NUMBER TWO on the list is ANOTHER FUCKING CITY? How can another, completely different city be called a "Buffalo Thing?" Is L.A. a San Francisco thing?
Beef on Weck – Okay.  It's a pile of beef on a roll, but we do love it, and it's Buffalo. So, fine.
Lafayette Square?  Thursday at the Square is no more, so Lafayette Square has returned to being only relevant to pigeons, bums, and protesters that other protesters make fun of.
County Fair? Never once in my life have I heard a Buffalonian announce that they will be going to "County Fair." This just makes me think of people who refer to "The Twitter," or ask what quarter of the hockey game we're watching.
Theater District– Whatever.
Erie Canal? If you made this shirt a hundred years ago, sure. To hear some folks talk, it WAS a pretty big deal for about ten years, until we figured out that rails and roads offer other advantages, like working in winter and going over a hill. But the Erie Canal isn't just done — it's gone. We filled it in to build projects and the 33. (You know what else used to be big in Buffalo? Wooly mastodons. Idiots.)
Bucket of Wings? What would compel the author (using the term loosely) to use the phrase "bucket of wings" here instead of just "chicken wings?"
Buff State – Okay…
… & State University? What? Slang for "Buffalo State" and then something called "State University?" It's UB, okay? It's UB to everyone except maybe a Provost and the Governor. Who aren't from Buffalo.
Elmwood Village – I can get behind this. At least the Elmwood Villiage is actually IN Buffalo!
Wegmans – First of all, Wegmans is really more of a Rochester thing. Secondly, doesn't including Wegmans on this shirt just seem a tad self-serving, especially when it appears that this shirt is only being sold in Wegmans?
Speaking of the flag…Yup, it's official. That's a flag in the background. You can almost see the desperation slowly ratcheting up on this design, with the creators starting to worry that they haven't given us enough reasons to buy this monstrosity, so they reach into the nuclear arsenal of t-shirt graphics and pull out the red, white and blue. As Samuel Johnson so famously observed, "Patriotism is the last refuge of the scoundrel."
Where's my wolf? Sadly, with all this, the makers of this shirt missed the one tried and true opportunity to hook me.
If you ever see someone wearing this shirt, please punch them in the throat. Or at least let Wegmans know that you've found a shoplifter. I get the feeling, though, that they'll want to let this one slide.