We've done this before but it's time to revisit Missed Connections.
THE SETUP
Craigslist can be useful when you need tickets to a concert or a part for your snowblower.

It can also be incredibly interesting. The section called "Missed Connections" is full of stories of unrequited lust. Go check it out. We'll wait.

Posters seem convinced that if only circumstances were slightly different, they'd be sharing their lives with complete strangers. In that case, they wouldn't be strangers anymore, but you get the idea.

Sadly, there's a fatal flaw in nearly every tale. Today, we break down a few of these "relationships" and point out why they seem unlikely to succeed.

For the uninitiated, each headline typically includes the following information:

M4W: "man for a woman"
AGE
LOCATION: town, neighborhood, etc.
LATEST ENTRIES

DOOMED TO FAIL BECAUSE:
You know who uses the nickname "Asia"? Hookers and strippers, Matt, that's who. She's not any more interested in you now than she was a year (maybe longer!) ago. Also, Sales 101– there's no call to action here. Let's say "Asia" finds this post and finds it compelling because she misses you tremendously. Then what? You didn't even establish a game plan. Weak, Matt. Weak.
**********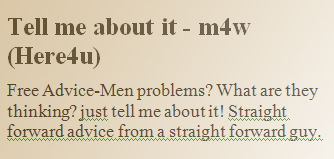 DOOMED TO FAIL BECAUSE:
Anonymously posting your willingness to serve as a dime store psychiatrist to the emotionally distressed doesn't seem to validate your claim to be a straight-forward guy. Quite frankly, you don't seem nearly as trustworthy as you thought you would when you finished typing up this ad. Back to the drawing board.
**********

DOOMED TO FAIL BECAUSE:
Your use of a capital D implies that Destiny is a name, rather than just a hopeful prediction of your future together. Assuming this is true, Destiny (probably not a real name and probably a stripper or a hooker) knows where she works (strip club) and probably knows what she wore (thong and pasties), too. Now she has to pass an online quiz for you? You're not really in a position to make her work for it.
**********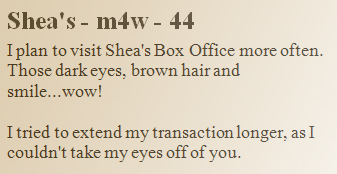 DOOMED TO FAIL BECAUSE:
Classic Craigslist case of "I know exactly where I can find you if I'd like to speak with you again but instead of following that route, I'll write a note, drop it in this bottle, toss it into the ocean, and hope you're strolling on the beach when it washes ashore." You're a classy guy, what with your frequent trips to the theater and all. Use that. You're better than this.
**********

DOOMED TO FAIL BECAUSE:
You don't understand the internet. She wrote to you on Facebook. Write back to her on FACEBOOK.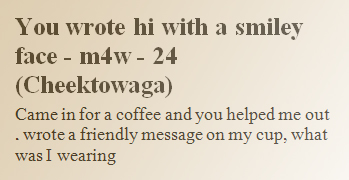 DOOMED TO FAIL BECAUSE:
Girls use smiley faces. This is not a sign and it's certainly not an indicator of her desire for a relationship. She drew a smiley face on the cup of the guy before you, the cup of the girl after you, and the check she wrote to her landlord on Tuesday. Are you also amazed every time you wake up and the sun is shining? Also, "what was I wearing"??? If it wasn't a tuxedo, a kilt, or a banana costume, she doesn't remember. Nobody does.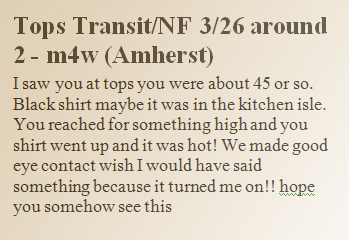 DOOMED TO FAIL BECAUSE:
So, she wanted something on the top shelf AND you guys made eye contact? Actually, this one has potential.
**********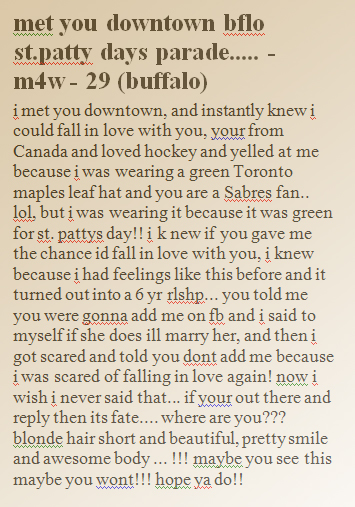 DOOMED TO FAIL BECAUSE:
You talk too much. Tighten it up, pal, and back WAY off on the love and marriage stuff. Also, you lost any opportunity your drunk ass had when you specifically requested that she NOT become your "friend" on Facebook. The only thing that trumps "I'm scared of falling in love" on the "get me away from this freak" scale is tacking on the word "again." You blew this badly and there's no bouncing back.
**********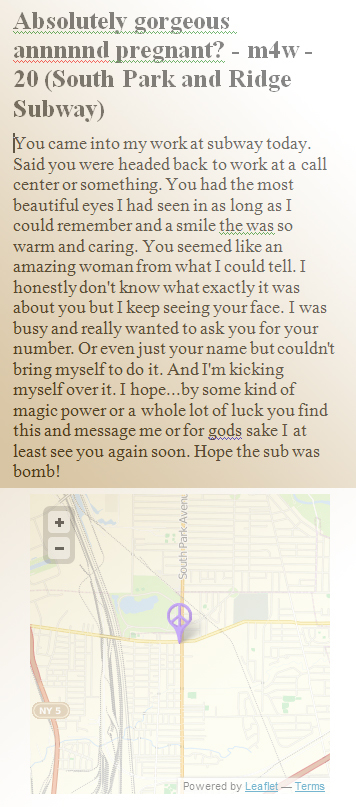 DOOMED TO FAIL BECAUSE:
Gorgeous ANNNND pregnant??? DOUBLE RAINBOW!
A few things…
Never assume pregnancy. She might just look like that.
If she is, in fact, pregnant, she's AT BEST trying to get over an ex and not in a great state of mind for whatever it is that you and your Subway buddies typically plot for lucky customers after your shift. Lesser options include: "she's married" and "she's got a pretty serious boyfriend." But hey, she puts out, right? The crew must have had some laughs over that.
Let's say her sub was, in fact, "the bomb." Was the "power of seduction through lunch" stressed during your sandwich artist training? If it was, they lied to you.
Good move to include the map, just in case the pregnant girl stumbled across your ad, knew you were talking about her, felt a similar connection, wanted to go back to the Subway at South Park and Ridge that she had just visited, but had NO IDEA how to find it.
Holy crap.
**********
If anyone has a story of "missed connections" ever working at all, we'd love to hear it.