Winter is over – and so then is all the insufferable complaining about the cold and the snow.
Finally, we can move on to all the insufferable complaining about all the terrible colds and flus that start popping up as the temps dip and rise.
Cover your sneezes, folks.
Smart Thing One: The NHL Has An Evil Plan To Defeat The Sabres Rebuild, And It Will Backfire
Well, this is nothing new. After all, we've been here before.
The NHL adopted the now-infamous "foot/crease" rule that lead to the ignominious end of the Sabres' 1999 Cup run. After the season, the rule was dropped.
The NHL adopted rule changes leading up to the 2005-06 season, highlighted by far more stringent rules on holding and obstruction. The Sabres capitalized on the plethora of power plays and on the space on the ice that had opened up for their fast and feisty forwards. The rules didn't exactly stick however, as an eventual return to clutch-and-grab broke the winning model that Buffalo had stumbled into.
Don't even get me started on the Rob Ray rule. (Honestly, if you're going to be the only one of the major league sports to actually allow fighting, a fight strap isn't going to make your product any more classy. At all.)
Now, Buffalo is in full rebuild mode. They have their sights set on the next two drafts, with an enormous amount of top end 1st and 2nd round picks – an amount, really, that hasn't been seen since the 1970's Canadiens. More specifically, they likely have targeted the sights of their tank on Connor McDavid or Jack Eichel in the 2015 draft. So, as what can only be a natural, expected response, the NHL is mulling over changing the draft process to make it harder for the worst team(s) to win the draft lottery.
But before you slap a stamp on your hate mail to Gary Bettman, consider this take from Chris Ostrander over at Two in the Box (@2ITB_Buffalo):
"With Garth Snow (GM, New York Islanders) staring at the least enviable situation a GM could face, he's tasked with choosing to sacrifice a top-five selection in this year's draft to save his first round pick in 2015 or keep his lottery selection this season while giving the Sabres his pick next year. Assuming Snow wouldn't risk giving up a known top-five selection, it stands to reason that the Sabres will wind up with New York's pick next year. It also stands to reason that this new system could conceivably provide the Sabres a better chance at the first pick.

The current system gives a 25% chance at the first pick to the team that finishes 30th with the odds decreasing with each subsequent pick. Holding lottery balls for the 30th and 27th spots would all but guarantee a team the top pick under the current system. However, Buffalo's relative success between 2009 and 2012 would limit their chances at the top pick even with another 29th or 30th place finish next year. Counting this season, the Isles finished 27th three times, 26th once and 16th once since the 2009-10 season. That combined with Buffalo's lottery odds based on their last few seasons significantly increase the Sabres' lottery odds. So missing out on New York's pick this year could wind up being even more valuable than originally expected."
In your face, Bettman.
Meanwhile, try not to lose any sleep over the losses piling up on our young, out-matched team. Yes, the Sabres are losing. But what have they ever really won? How did all those middling and mediocre seasons get us to the Cup? How on earth, aside from overspending egregious amounts of money, can the Sabres be expected to get top end UFA talent to the city of Buffalo? Keep gambling on trades?
The Sabres scrapped a broken business plan that perennially resulted in average results. Playoffs or not, there is only one Cup, and the previous strategy failed every year. See where I'm going with this?
We've been losing all along.
Finally, the team has an actual, workable plan on bringing true Cup contending talent to the Queen City. It has to happen through the draft, and with the silly amount of picks the Sabres have accumulated (and with the help of Garth Snow), it's hard to envision a scenario where this plan doesn't work out. You want the best UFAs to come to Buffalo? You need to build a foundation of real talent, winning, and a true promise of Cup contention to lure them here first.
Hold steady, fans. The NHL cannot stop this thing. Just wait, and enjoy watching the world class talent roll into town.
We're in for a hell of a ride.
Smart Thing Two: Andre Reed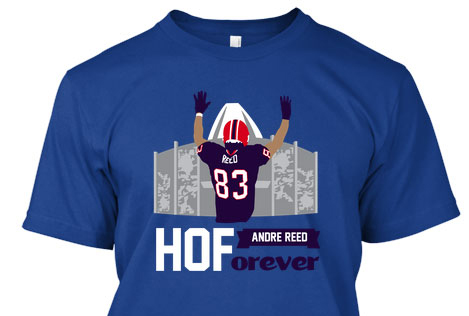 This guy has been killing it lately.
This year, Reed will finally be enshrined into the Pro Football Hall of Fame. It's been a long wait, but Reed didn't waste any time in helping to distribute the uptick in buzz over his name.
Proud to represent @26shirts to benefit Ben and his family. Thank you Buffalo for all your support..keep buying.#Blue4Ben #Cityofneighbors

— Andre Reed (@Andre_Reed83) March 17, 2014
Reed's partnership with @26Shirts to aid the #BlueForBen efforts didn't take long before it really took off:
500 tees in 12hrs

— Andre Reed (@Andre_Reed83) March 17, 2014
In 2011, Reed introduced his "Over the Middle" all purpose sauce, with proceeds benefitting The Kids Escaping Drugs Campaign, and The Second Mile.
His continuing work with the Andre Reed Foundation helps "local charities, including the Boys & Girls Club of Allentown (PA) and the United Way, through proceeds from the annual Andre Reed Celebrity Golf Classic and donations from fans all over the world." The foundation even plans to expand its scope nationwide.
Keep up the great work, Andre. We'll see you in Canton.
Smart Thing Three: Spring it On
You love Buffalo, that's why you're reading this column, right?
#SpringItOn2014 starts at exactly 8am tomorrow morning. #Buffalo, can we all just decide now that we are going to give? #NonProfit #GiveBack

— Krystal Sondel (@LovinOnBuffalo) March 20, 2014
I encourage you to heed Krystal's advice, and to head on over to SpringItOn.org. They are doing some pretty good work around town, and could use a donation. Here's a sampling of what the organization accomplished in 2013:
"It is our hope that our work in 2014 will surpass that of what we accomplished in 2013.  The programs of TSCWNY had AmeriCorps members doing great things in the community!  Opportunity Corps filed 9,000 tax returns!!  ABLE tutored 5,648 K-12 students!  Serve NY VISTA served 9,017 Veterans and 3,154 Military Families!  YouthBuild had 16 students pass their GED's and 8 enroll into college upon completing the program! We were able to recruit 36,857 volunteers who provided 370,547 hours of service throughout our communities.  There were 619 individual service projects designed and implemented by service participants and volunteers for neighborhood improvements.  113 non-profit organizations received vital support from AmeriCorps members."
Smart Thing Honorable Mention: For The Appreciation and Awareness of Craft Beer in Western New York
Into #Buffalo and #craftbeer? Check out http://t.co/dixbeA01hh. Blog site launched today. Print magazine this summer! #wnycraftbeer — Matt Davison (@amdgPubAffairs) March 19, 2014

I'm on board with every one of those sentences – and I am especially looking forward to enjoying that print edition and a tall glass of beer out on the deck this summer.
***
Note: Questions? Comments? Have a Smart Thing? You can find Scott Michalak crowd sourcing ideas for his angry letter to Gary Bettman on Twitter at @ScottyMCSS.