We just got a notification that they were moving around our cable channels, and I kinda laughed, since I have literally (and figuratively) no idea where any of my 900 cable channels are located anyway.
Every time I pull up the courage watch some TV, I spend 7 minutes trying to turn it on before I can start flipping. After 5 minutes of not finding anything good– but finding a lot of offensive– I go find something else to do.
Do you remember the days when you not only knew every cable channel you had, you also knew the number off the top of your head?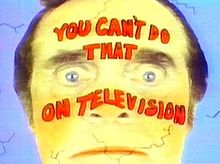 I remember first getting cable, and being amazed at the world that was opened up to me. Dozens of extra cartoons. You Can't Do That On Television. Sabres Games. Guys speaking Spanish. Getting to watch Congressman Henry Nowak Live from Washington DC on C-SPAN. OK, maybe that last one was just me, but for all of us, it was in 36 or fewer channels. It was fewer in my house, because we never got Disney or HBO. We, for some reason, always had Cinemax and Showtime. (I think they were cheaper than HBO and The Movie Channel at one point.)
Depending on where you lived, Western New York had a handful of different cable companies like Courier Cable, Cablevision, Jones Intercable, Adelphia, and TCI among others, until Verizon wound up gobbling them all up. I can remember looking  in the TV Guide with pre-teen anger at the all great stations people in other towns were getting that we weren't. Jones Intercable always seemed unfair and a few years behind the times.
TCI served the City of Buffalo for most of the 1980's and 1990's. Here is the TCI cable lineup from 1989.
(For all the kids out there, you had to keep this next to the television, because the names of the stations didn't appear on the screen when you flipped through the channels when your  mommy and daddy were little.)
Buffalo Journalist and Historian Steve Cichon brings us along as he explores the nooks and crannies of Buffalo's past present and future, which can mean  just about anything– twice a week on Trending Buffalo. 
As he collects WNY's pop culture history, Steve looks for Buffalo's good stories and creative ways to tell them as the President and founder of Buffalo Stories LLC. He'd love to help your business tell its story. For a decade, he's also collected and shared Buffalo's pop culture history at staffannouncer.com.  
steve@buffalostories.com | @SteveBuffalo | www.facebook.com/stevecichon