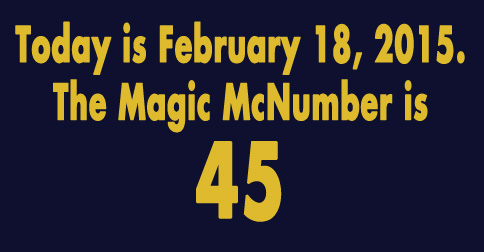 The Sabres score the fewest goals, give up the most, have the worst power play, penalty kill, 5-on-5 numbers, goal differential and faceoff numbers and take the fewest shots and give up the most shots per game in the league.– Mike Brehm, USA Today, 2/17/15
So you're telling me there's a chance.
Up is down. Black is white.
Winning is losing and losing is winning and Connor McDavid or Jack Eichel is the prize.
We've all been doing some form of bizarro NHL math on our own but with the finish line in sight, it's time to start tracking this thing.
For the purpose of our standings, a loss is worth 2 points, an OT loss is still worth 1, and a win is worth 0.
The good news is that the Sabres have a four point lead.
The bad news is that not even the (official league-leading) Predators are officially out of contention for 30th place.
MAGIC McNUMBER (through 2/17/15)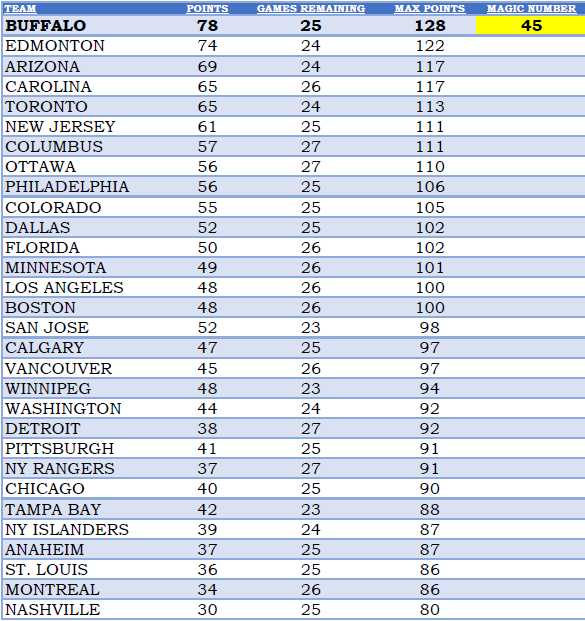 NOTES:
All language below refers to these standings only and NOT to the official NHL standings.
Due to the NHL draft lottery, the team that finishes in first will have a 20% chance of drafting first overall and an 80% chance of drafting second.
Magic McNumber is calculated by taking the maximum points of the team in second place and determining how many more points need to go the Sabres' way to ensure that the Sabres stay in first. Today's calculation looks at Edmonton's max– 122– and determines that Buffalo needs to get to 123 to hold off the Oilers. 123 (required total) minus 78 (points earned) equals a Magic McNumber of 45.
Tiebreakers are not factored in. Buffalo currently holds the tiebreaker over Edmonton but that is not reflected in the Magic McNumber. Tiebreakers will be added if necessary down the stretch.