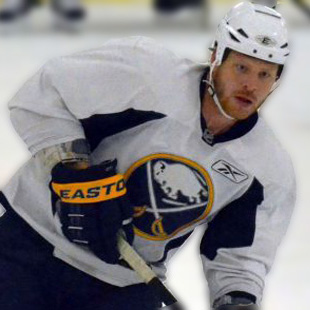 One game in, fans are smitten.
Remember when we told you you'd like Steve Ott?
When a strongly-disliked-by-the-general-populace hockey player (we'll call him Derek Roy) gets traded for a player that seems to possess the exact qualities missing from the former, the fan base welcomes the latter with open arms. When those qualities manifest themselves immediately, we gush.
Talking the talk is a nice complement to walking the walk.
Listening to his interviews makes me SO happy that @ottern9ne is a part of our team. Awesome personality! WELCOME!!! @buffalosabres

— Olga Khmylev (@OlgaKhmylev) January 21, 2013
1st? 3rd? Whatever. Same spotlight.
@ottern9ne In case you needed photo evidence, here is you getting 1st star of the game twitter.com/ShanV11/status…

— Shannon Fisher (@ShanV11) January 21, 2013
We like balls.
@rockertommyb Goes without saying on @ottern9ne. Brings the testicular fortitude this team needs. Great goal and bangs on every shift. #fRoy

— Bobby Digital (@PassionBucket16) January 21, 2013
We're a pretty easy puzzle to solve.
@ottern9ne You're officially a fan favorite welcome to buffalo!

— Brendan Frey (@Bfrey40) January 21, 2013
No, but being a Stars fan makes you a bad person.
@ottern9ne Am I a bad Stars fan if I get a Sabres Ott jersey? Best wishes you ya up there, give em hell!

— Marcus Ramsey (@marcusramsey) January 21, 2013
Ott is a fresh face and welcomed voice in the dressing room, a new toy that worked as advertised. His willingness to punish opponents at full speed with Kaleta-like indifference toward his own body will endear him to long-suffering fans. He adds bite to a team that had been pushed around far too often. If anything, he's the antithesis of Roy.
In conclusion…
@ottern9ne Carrubba Collsion, goal, 5 hits, few chirps, solid on PP and PK Take a bow. If Buffalo had paper money, your face would be on it!

— SabresBuzz (@SabresBuzz) January 21, 2013