We've done this before. Twice actually.
It's time to revisit Missed Connections.
THE SETUP
Craigslist can be useful when you need tickets to a concert or a part for your snowblower.
It can also be incredibly interesting. The section called "Missed Connections" is full of stories of unrequited lust. Go check it out. We'll wait.
Posters seem convinced that if only circumstances were slightly different, they'd be sharing their lives with complete strangers. In that case, they wouldn't be strangers anymore, but you get the idea.
Sadly, there's a fatal flaw in nearly every tale. Today, we break down a few of these "relationships" and point out why they seem unlikely to succeed.
For the uninitiated, each headline typically includes the following information:
M4W: "man for a woman"
AGE
LOCATION: town, neighborhood, etc.
LATEST ENTRIES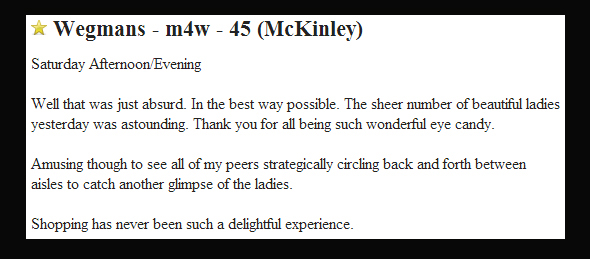 DOOMED TO FAIL BECAUSE:
It's the rare shout-out to everyone, which doubles as a shout-out to no one. Also, there's no call to action here. We can only assume this is a setup for a post after your NEXT shopping trip… "So many beautiful women but there was one particular girl who stood out from the rest." We see you working.

DOOMED TO FAIL BECAUSE:
You've been through the personal ads a thousand times thinking "There's a girl out there for me and she's pretty and she's funny and she likes books and math and she's shy and she loves Star Trek and she doesn't have a date because she's lonely and we'll get married on the Enterprise and even the Klingons will be there but there won't be any fighting because our love is so beautiful and I'm not crazy like the guys at work say I am." Turns out, you were right. You aren't crazy. There she was. Then you didn't say anything.

DOOMED TO FAIL BECAUSE:
Play a word association game with anyone who has lived in WNY for more than a couple of year. You say "UB bike path" and then see what happens. Chances are roughly 100% that the next word you hear will be either "rapist" or "killer." There's sort of a negative connotation to the phrase. Add in the fact that Missed Connections is the creepiest part of the creepiest personals site on the planet and you're really putting yourself behind the 8-ball here. When trying to convince a stranger that you're (let's be honest) kind of stalking that your intentions are pure, don't do anything to put "rapist" or "killer" into her head. We can't stress this enough.

DOOMED TO FAIL BECAUSE:
Gotta love the phrase "you were black"– partially because the use of the past tense implies that it was a temporary state of being. And while we'll concede that skin color is a distinguishing feature, you're giving off an "I've never tried a black one before" vibe and it's unbecoming. Also, don't bring the rebate into this. We all know you're never going to send away for it anyway.

DOOMED TO FAIL BECAUSE:
"You throw well… for a girl. You're funny… for a girl. You're smart… for a girl. You're pretty… for a black girl."
You're racist… for a person. Plus, your grammar and your typing suck.

DOOMED TO FAIL BECAUSE:
Did she follow you home and ask you to dance for her? No? There's no potential. She's a stripper. You're a passing client.
P.S. No, she didn't like your hat. She liked your wallet.

DOOMED TO FAIL BECAUSE:
Honestly, we like your chances better than the last guy.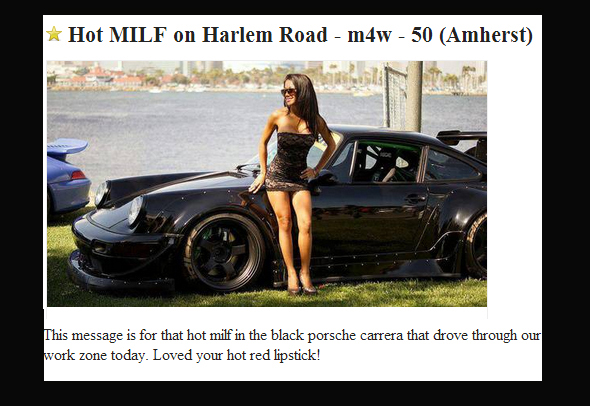 DOOMED TO FAIL BECAUSE:
Wait a minute. She's not driving through a work zone! That's not even Harlem Road! There's no way to tell that she's a mother, so why call her a MILF? Also, how did you get this picture? We're starting to think we've been had. Stupid internet.
**********
If anyone has a story of "missed connections" ever working at all, we'd love to hear it.