If someone makes out with someone else in a hot tub, don't you have a God-given right to benefit from it happening? The answer is yes. That is why I created a Fantasy League for the upcoming season of 'The Bachelorette'. As many of you know, I've been recapping this terrible Reality TV dating game for more than a decade. There is not a more qualified person on this Earth to develop and monitor a pointless Fantasy league based on the show. This fact makes me very sad.
As Andi Dorfman stumbles through her journey to find true love, you can follow along at home and potentially win prizes. All you have to do is select three contestants based on how long you think they'll last on the show and how many points they'll earn from my customized scoring system. I'll do the math. You can relax and pay attention to your family or something. In order to give everyone interested a chance to see the contestants in action, we won't open the league until after the premier episode. Ten guys get cut the first night. Fifteen will remain, unless those crazy Bachelor producers feel like changing the rules and adding people. There really are no rules with this show. Here is my customized Bachelor/ Bachelorette scoring system:
Each rose received – 5 points
Kissing/ Making out with the Bachelor/ Bachelorette – 1 point
Using the word 'connection' – 1 point
Playing acoustic guitar – 1 point
Standing on a balcony or pier and staring off in the distance to think – 1 point
Crying – 5 points
Riding a horse/elephant/camel – 5 points
Being the one everyone hates – 5 points
Guarding and protecting your heart – 5 points
Drinking too much – 10 points (my discretion)
Helicopter ride – 10 points
Having sex with the Bachelor/ Bachelorette in the ocean – 10 points
Having sex with a 'Bachelor' production crew member – 10 points
Maintaining possession of your "sparkle" – 10 points
Climbing up or down a cliff/ building/cave or bungee jumping from a structure – 10 points
Attending a private concert by ABC promoted recording artist – 10 points
Yelling at another contestant while pointing at their face – 10 points
One-on-one Chris Harrison interview – 10 points
Sneaking away in the night to visit the Bachelor/ Bachelorette – 10 points
Horrifically embarrassing hometown date incident – 10 points (my discretion)
Hot tub/ pool make-out session – 10 points
Refusing a Chris Harrison fantasy suite invitation – 20 points
Suffering an injury that requires a Bachelor EMT or ambulance – 20 points
Mentioning how much your deceased parent(s) would want you to win the Bachelor – 20 points (once per season)
Abandoning your child to join a Reality TV dating show – 20 points (once per season)
Warning the Bachelor/ Bachelorette that a contestant may be there for the wrong reasons – 20 points (once per season)
Being there for the wrong reasons – 21 points (once per season)
Voluntarily leaving the show – 25 points
Winning the show – 35 points
My judgment will be final in all scoring and decision making. I reserve the right to drink a bunch of alcohol and flee the country. Prizes will be announced shortly. This is bigger than the World Cup. Sports quota filled. Watch Monday's premier and then re-visit TrendingBuffalo.com to choose your team. This was the worst idea I've ever had. The good news is, it's going to be really fun for you. Visit ABC's website for a look at the 25 contestants for the upcoming season. There is no limit to the number of teams we can have in our league, however we only allow one team per person. If you want to sign up a team in the name of your 2-year old kid or something, we're really not going to be able to stop you. Claire's dad will know what you've done, though.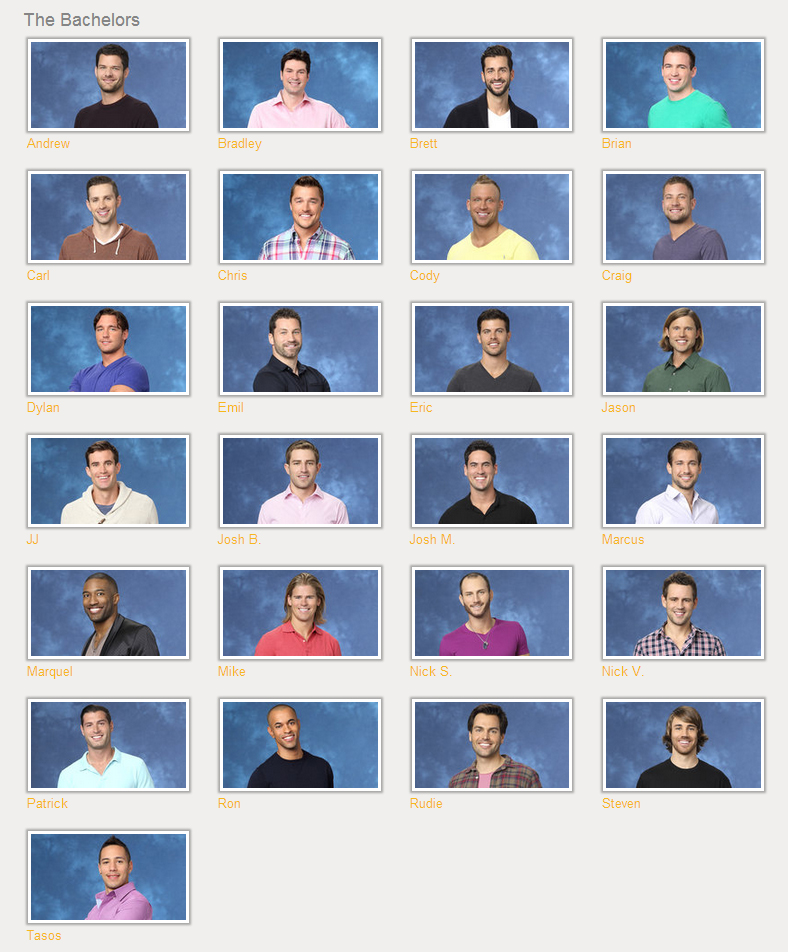 WARNING: Ten contestants will be cut tonight before the contest even begins so you might want to hold off until tomorrow to enter. Or you might not. We're not mind readers.
Create your free online surveys with SurveyMonkey , the world's leading questionnaire tool.