Welcome to the final installment of the #2013Trendees award ceremony!
Here at Trending Buffalo, we spend an unhealthy amount of time judging others' use of social media. We figured it was time to let the rest of Buffalo in on the fun to help us to honor the people and organizations that are doing it right.
We collected more than 4,000 votes in 34 categories over a 4-day period.
In case you missed it, here are links to PART ONE and PART TWO  and PART THREE and PART FOUR of #2013Trendees award winners.
Moving along…  It's time for more Twitter awards!

Puttin in work on and off the field with the family at the Buffalo Zoo. twitter.com/StevieJohnson1…

— STVN (@StevieJohnson13) April 23, 2013
Drop a game-winning TD pass, tweet to the heavens, make national news. Confess to not working out, get publicly ridiculed for it, start a Twitter fight with the radio hosts who are talking about you. Oh Stevie, what will you do next? Other top vote-getters included @otterN9NE and @JEnroth125.

Eyewitness quote that could use some context: "From what I understand, the motorcyclist was mangled. I was told it was a crotch rocket."

— Tim Graham (@ByTimGraham) June 5, 2013
Tim Graham always wins our awards. His profile reads "Just trying to capture the spirit of the thing" and he's got it down. Other top vote-getters included @JeremyWGR, @JohnBorsa, @DaveMcKinley2, @GingerGeoffrey, and @2MelissaHolmes. We wouldn't be surprised to see Dave McKinley to make a run at this Trendee in 2014.

I'd like to host a daily 30-second long sports radio show called "Who Gives a Shit?"

— Alan Bedenko (@buffalopundit) June 5, 2013
The most distinguished member of our local "fake media," Alan Bedenko uses everything available to him to dig up real stories that aren't receiving adequate attention. If he ever finds a way to work in his opinion, he'll really be worth a follow. Other top vote-getters included @goosesroost, @christrapasso, and @theycallmedubs.

Just to be clear: The suffering actually starts NEXT year.

— Fake Darcy (@FakeDarcy) April 29, 2013
If we had to send one of our winners into a competition with #2103Trendees winners from other cities around the country, we'd pick @FakeDarcy… let's call him "Best in Show." We don't know who runs the account and we don't ever want to find out. Other top vote-getters included @lindyruffstie, @firedougmarrone (that was quick), and @realjohnscott.

Cabela's is coming to #WNY Reaction was very positive until residents found it wasn't an Italian restaurant

— Tommunist (@TomDolina) June 1, 2013
We didn't think of him as a troll until the votes poured in. Come to think of it, he did take and modify our logo to use as his profile pic, and regularly tricks us into thinking we've said things that we haven't really said. Damn you, Dolina. Other top vote-getters @Michael_necci, @buffalorising, and @theycallmedubs.

What's a creeper? We can't define it but we know it when we see it… and so do you. We had a hunch that a different guy would win this one but since he didn't get a ton of votes, we won't publicly shame a grown man whose primary use of Twitter is to openly fawn over/flirt with local cheerleaders. Instead, you chose @ShyGuyShawn. Let's try to figure out why.
im honestly so turned on by the fact Amanda Bynes is a trainwreck now

— shyguy shawn (@shyguyshawn) May 16, 2013
Bynes was born in 1986 (not terrible) but we get the sense that Shawn first came across her when she was a teenager and he was a 30-something watching Nickelodeon. Not criminal… but creepy.
i wanna go to a bonfire tonight.

— shyguy shawn (@shyguyshawn) May 17, 2013
Why do you want to go to a bonfire? We liked going to bonfires… in high school.  Seems creepy.
Maybe it's this background photo?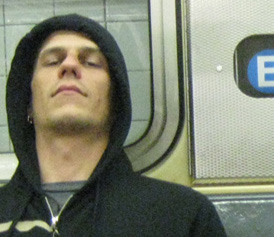 Bonus: @ShyGuyShawn's account is now verified, ensuring that his fake followers know they're not getting some knockoff Shy Guy.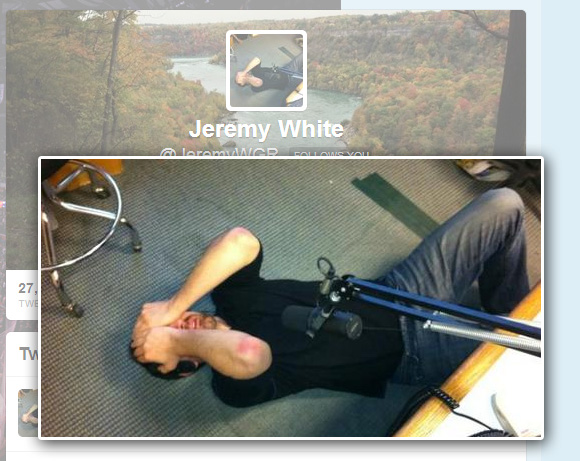 Taken during an extended shift while waiting for Mario Williams to actually sign a contract with the Bills, @JeremyWGR's profile photo perfectly encompasses the frustration of dealing with, well, everyone and everything. Other top vote-getters include @OlgaKhmylev (you guys must really like little dogs?) and @BfloBlog.

#dosomethingdarcy has become the default hashtag for "I don't like where things are going, Sabres."
Here's a shot of the Sabres' practice. #DoSomethingDarcy twitter.com/ScottyMCSS/sta…

— Scott Michalak (@ScottyMCSS) January 8, 2012
Other top vote-getters included #BillsMafia, #BuffaloOpeningCeremonies, #BerlsMurfia, and #becauseitsbuffalo.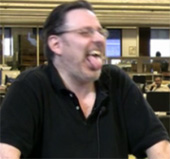 Mike Harrington hides behind the incorrect assumption that public criticism of his own "work" (by us or others) falls under the blanket heading of "media bashing." At Trending Buffalo, we don't "attack" anyone. We do, however, make a point to highlight public displays of hubris, hypocrisy, bullying, and ignorance. We stand with the people. It's not "the media," Mike. It's you.
Other nominees included @TBNSully vs Twitter, @ByTimGraham vs his followers, and @StevieJohnson13 vs Schopp/Bulldog.

WE DEMAND TO HEAR FROM TERRY PEGULA. WHY ISN'T HE TALKING TO US? IS IT BECAUSE HE DOESN'T HAVE ANYTHING TO SAY? IS IT BECAUSE WE'RE INSUFFERABLE?

It should go without saying that a simple "unfollow" (or two in this case) would solve a huge chunk of the "I don't care what this person is saying" problem. That said, consecutive non-playoff seasons have taken some of the shine off of all things Pegula around here, and this award feels like a reflection of that. Winning cures everything.
#2013Trendee Winners
Best use of social media by a local restaurant/food business – Lake Effect Artisan Ice Cream
Best use of social media by a local retail business – Community Beer Works 
Best use of social media by a local entertainment business / venue – Transit Drive-in
Best use of social media by a local corporation – Wegmans
Best use of social media by a local org/non-profit/cause – Ride For Roswell
Best use of social media by a local sports team/organization – FC Buffalo
Best use of social media by a local media outlet – Buffalo.com
Best use of social media by a local political figure – Mark Poloncarz
Best use of social media by a local artist/comedian/musician – Dan Fisher
Best local Tumblr – BuffaloNewsComments
Best local Pinterest user – Artisan Kitchens and Baths
Best local Youtube channel – StaffAnnouncer
Best local Intsagram feed – Kevin Rybczynski
Best local sports blog – DearGodWhyUs
Best local personal blog – InDaBuff
Best local general interest blog – BuffaloEats
Buffalo Twitter: Most Interesting – @Trampabroad
Buffalo Twitter: Most Humorous – @JamesRadio
Buffalo Twitter: Most Likable – @scottyMCSS, @salsports, @keithmcsheaBN, @kwsnow 
Buffalo Twitter: Most Hateable – @ChrisSmithAV
Buffalo Twitter: Most Depressing – @news4buffalo
Buffalo Twitter: Most Informative – @MatthewWGR
Buffalo Twitter: Most Chatty – St. Bonaventure Alumni
Buffalo Twitter: Most Annoying Topic – Running 
Buffalo Twitter: Best Celebrity – @StevieJohnson13
Buffalo Twitter: Best Blogger – @BuffaloPundit
Buffalo Twitter: Best Media Member – @ByTimGraham
Buffalo Twitter: Best Parody – @FakeDarcy
Buffalo Twitter: Best Troll – @TomDolina
Buffalo Twitter: Best Creeper – @ShyGuyShawn
Buffalo Twitter: Best Profile Pic – @JeremyWGR
Buffalo Twitter: Best Hashtag – #DoSomethingDarcy
Buffalo Twitter: Best Feud – The People of Buffalo vs Mike Harrington
Person you'd most like to see start tweeting – Terry Pegula
Person you'd most like to see stop tweeting – Terry Pegula's Daughters
THE END.